Smoky Jo's Photo Gallery - 2011
Click here to look at our 2010 Gallery
October saw less rain but lots of wind so we were without a tent! A family group admired Jo's clay oven and Smoky Georgina got arty with her photo of a smoked pepper!

It seems a long time now since we could put the smokers up in the usual place - and as I write more gales are on their way! September's smoking courses were, of course, great fun, with fine fish caught, superb sausages created and we even had time to smoke a little

brisket

for ourselves and make a programme with

ITV...
August departed with a significant amount of rain, but our fishermen and women were undaunted. For one course we tried a new location for the smokers, desperately seeking protection from the elements... We also ran our first "exclusive" family food smoking courses in August!
| | | |
| --- | --- | --- |
| The Thomas-Davies family learn the fine art of using a hot smoker from Smoky Jo Hampson | Watching the chickens eat a dropped smoked mushroom! | |
| Wonderfully seasoned hot smoked salmon... | ...and a motley crew of smokers in the shed being forced to smile for the camera | |
| Experienced fishermen teaching their wives to catch trout to smoke | The Cooney family toasting their successful smoking. | |
As we gallop into August here are some pictures from July's weekend and day hot and cold food smoking courses...

Pictures from the second June weekend course, ably described by Jenny Cutler More pics
I am aware I have missed a couple of course photos! I WILL catch up, but meanwhile there are lots of pics from the first of the week end smoking courses we have this June here, these are just samples: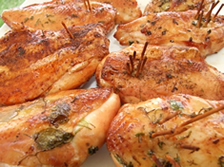 After a busy week of three smoking courses we now don't have another until bank holiday Monday. here are a couple of pictures from our course on which Diana Henry, award-winning Sunday Telegraph food writer came to learn more about smoking food. More on the blog.
| | | |
| --- | --- | --- |
| | Julius gets the wood shavings just right, some of the best smoked chicken ever seen, and Diana Henry with Smoky Jo and some smoked food. | |
Another first - a midweek course at The Wild Boar. And a well-earned rest from the washing up...
Listening intently to the wisdom of Smoky Jo

Rob proving he could light the charcoal chimney!

Wild Boar Head Chef Marc Sanders proving once again that you don't have to swear and shout to prepare wonderful food!
May's weekend course was the first time this year that everyone caught a trout - hooray!
Lots of patience... Debbie and Mark eventually bagged their trout for smoking, Mick and Roger caught rather more than one each - but they were experts. Paul was rightly proud of his catch!

There was the usual ribaldry that goes with sausage making - but in fairness there were some damn fine sausages created!

And Smoky Geo (logistics) seems to have snuck into a photo...

Damn fine sausages!

Cheers!
May 7th brought the first rain (but we coped!) and a part-vegetarian course...
Tofu, Haloumi, nuts eggs, tomatoes aubergines, olives... so many wonderful foods given the Smoky Jo treatment.

Possibly the smoked quorn tacos took the biscuit, so to speak!
April 30th - a case of Smoky Jo and Windswept Georgina!
| | |
| --- | --- |
| Selecting the perfect flavours... | Anticipation... |
| Pop up taken down and smokers rearranged due to strong winds! | Washing down the smoked food with a glass of bubbly. |
Our first Shap course of 2011 saw us enjoying probably the best weather ever! Sunblock was the order of the day for fishing at Bessy Beck, and it was shirt sleeves back here!
April 9th & 10th 2011... More pictures are on the blog and Elayne and John's pics are here!
Salmon garlic and cheeses getting the filing cabinet treatment

Teamwork between Matt & John meant there was trout to smoke!

Cheers!

Anticipation, waiting to taste filing-cabinet smoked salmon.
Smoky Jo's courses are part of -
Stepping Off and soTraining and Consulting.
Corporate training, specialising in designing and delivering motivational seminars and workshops. Our work is motivating and inspiring, putting your organisation a step ahead.