---
---
---
---
---
---
---
---
---
---
---
---
You can follow our smoking thoughts and ideas on Facebook or Twitter.
About Us
Your hosts at Smoky Jo Cookery School, Cumbria, tutors and entertainers are Jo Hampson and Georgina Perkins, the previous owners of the renowned Old Smokehouse based at Brougham Hall, Penrith. They built up the business and when they sold it their customers included Fortnum and Mason, Harvey Nichols and they smoked privately for HRH Prince Charles.
Who better to take you through the hints and tips to creating and enjoying smoked food recipes at home?
You don't need to own an expensive home smoker to enjoy smoking food at home. Jo and George may have run one of the best smokehouses in the UK but now they smoke on a variety of home smokers - anything from a barrel or a biscuit tin to a BBQ - not to mention their new friend Freddie!
Come and join them for a day or two and enjoy a fun, informative and interesting experience.
E mail: info@SmokyJos.co.uk
Phone: 01931 716638
Smoky Jo's courses are part of -
Stepping Off and soTraining and Consulting.
Corporate training, specialising in designing and delivering motivational seminars and workshops. Our work is motivating and inspiring, putting your organisation a step ahead.
Learn to smoke food with Smoky Jo's.
Read what our customers have said about the Smoky Jo's experience...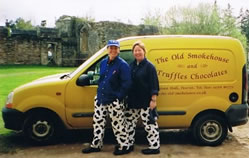 Georgina and Jo dressed to smoke!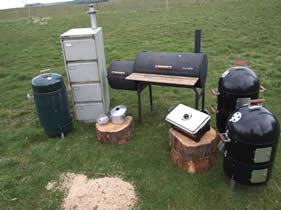 At Smoky Jo's we smoke on a number of smokers - anything from a biscuit tin to a filing cabinet.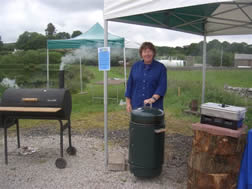 Jo with a number of smokers at a recent show.
Fed up with your Life?
Are you in a rut?
Do you dream of a different future?