---
---
---
---
---
---
---
---
---
---
---
---
You can follow our smoking thoughts and ideas on Facebook or Twitter.
Home Smokers
We use a variety of smokers at Smoky Jo's - some commercially produced and some home made. We also stock a small selection... all are also available with a smoking course on the specials page.
THE SNOWBEE SMOKER
- as seen with Jo on the Great British Taste Tour, April 2012
This is a fabulous little hot smoker, small, light and easy to use, originally designed for fishermen to smoke their catch at the riverside. Ideal for taking on a day's fishing, camping or using at home. Smokes and cooks meat, veg or fish in 15-30 minutes.
Includes a FREE bag of wood dust!
Features:
Stainless steel construction for long life
Starter bag of wood dust
Stand and meths burner assembly
cooking pan size 16.5" x 10.5" x 4.5' (42cms x 27 cms x 11cms)
simple to use - smokes and cooks in one operation
smokes and cooks fish, meats, poultry etc, in as little as 15 minutes
stand and burners fit inside the cooking pan for easy storage and portability
Price £52.99
incl UK P&P
---
THE TENNESSEE SMOKER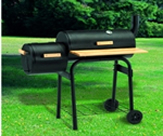 This amazing barrel smoker is unbelievable value for money. It hot smokes, cold smokes and BBQs!
Mobile charcoal smoker grill, chrome plated cooking grill, condiment table, wooden front shelf.
Dimensions 108 x 110 x 52 cm. We just love this smoker at Smoky Jo's - does everything the bigger more expensive smokers do. It is fantastic design - and unbelievable value for money!
Features:
It is compact and lightweight
It is very versatile
You can use it as a hot smoker, cold Smoker and BBQ
It takes about 20 minutes to assemble
Comes with excellent temperature gauge
Weighs less than 24K

Price £154.99
incl UK P&P
---
THE CAMERON STOVETOP SMOKERS
These stovetop smokers are simply superb - you can create an element of theatre to your mealtimes smoking meat, fish and even vegetables. Comes with a recipe booklet and wood chips to get you started, these smokers can be used on any hob - gas, electric, Aga etc. Cooking times can vary according to heat source* you can have perfect hot smoked salmon in about 10 mins!
Features:
Durable Stainless Steel Construction

Fold-Away Handles never get hot

Components nest in base for easy storage

Easy to clean with soap and water / Dishwasher Safe

Use over any flame or electric heat source
Large Stovetop Smoker

Price £66.99

incl UK P&P

Assembled Size:

Height 3"/76mm,

Length 15"/380mm

Width 11"/280mm
Weight 7.1 lbs/3.25 kg


Small Stovetop Smoker

Price £45.50

incl UK P&P

Assembled Size:
Height - 3" / 75mm
Length - 11" / 280mm
Width - 7" / 178mm
Weight-3.5 lbs / 1.6 kg
*INDUCTION HOBS - Coking time may be considerably longer than indicated in our instructions and recipes.
CAUTION - FLAT TOP STOVES / CERAMIC HOBS: Before using the Camerons Stovetop Smoker on a flat-top stove / ceramic hob, please refer to the manufacturers instruction manual - Some manufacturers indicate that problems may occur if the cooking utensil is larger than the element (eye)- Although this seems to be vary rare.

---
Smoky Jo's, the first and best food smoking course from the former owners of the awward-winning Old Smokehouse, Brougham Hall, Penrith, 2001 - 2004.
Also Available:
The Dymond Guide to food and drink in one of this country's most beautiful areas.. and guess what? We're in it!
The book includes restaurants, pubs and inns, cafés and tea rooms, food and drink producers, specialist food and farm shops, and of course cookery and baking courses across The Lake District and Cumbria.
Just £12.99
FREE P&P