Smoky Jo's Photo Gallery - 2010
Click here to look at our 2009 Gallery
Here are photos of just some of our Food Smoking Courses run at Smoky Jo's in 2010.
Some of the photos are taken by us but many of the people who come on our courses send us photos they have taken.
So our last course of the year is behind us... (apart from the ones at The Wild Boar. ) The last home-smoking students of 2010 enjoyed a wonderful bright Autumn day... so they wrapped up well! Freddy the Filing Cabinet Smoker will be put away till next year. Well, that's not strictly speaking true - we'll be smoking our Christmas smoked salmon and other festive fare in him soon!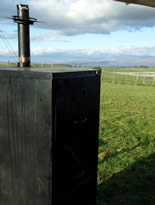 The last weekend course of 2010 was a cracker - some real live-wires, great home-made sausages, a fine fisherman, good company and lots of learning to smoke good food!
Thanks to Allan and David who made sure that we got copies of The Sunday Telegraph & Stella magazine with the article "An Appetite for Learning", in which our food smoking courses are reviewed!
October, and it's definitely Autumnal... though a bright and blustery day was a joy compared to the driving rain we had the day before!
After designing the brines, waiting to sample smoked sausages - At last! Sitting down at the end of the day to enjoy their own smoked chicken, prawns, garlic and goodness knows what else - oh yes and a glass of bubbly!
A fabulous group rounded off September... and began to feel Autumn creeping into Shap...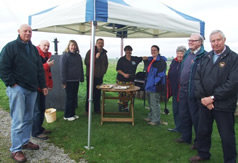 A couple of photos from one of our September courses - with a few extras for the tastings!
At the end of August we had a weekend and a one day course, lovely smoked food, some good fishing, fabulously tasty home-made home-smoked sausages..happy people - and absolutely stunning weather!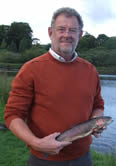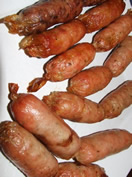 The last day of the month... still with unusual bank holiday weather!
August has been stormy so far... but the food has been good!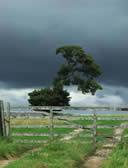 Our midweek July course was for some professionals - Head Chef Jon who with his wife Jane will be taking over the Coach and Horses, Ganborough (near Moreton in the Marsh) on 10th March and
Julie and Nick from Growing Rural Enterprise Ltd. The weather was wonderful and tastings and fizz were enjoyed outside with the Pennines as the backdrop!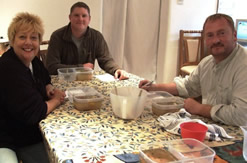 Our latest July course saw mixed weather but we managed to stay dry and keep the fires burning...
Smoked cheese and wine.... and anticipating the smoked squid and mussels!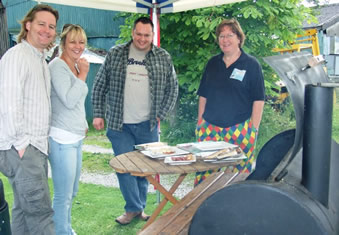 Four guests listen attentively... ...the Pennines in the background lost in a heat haze!
For our weekend course in June we had glorious weather for the fishing... and more traditional Cumbrian rain for the second day! We welcomed Alan back for a return visit, and he was the first to land a trout...
Rose and Phil making sausages with Stilton.... Allison casts beautifully... Alan is congratulated while Nigels keeps trying...
Rose checks the smoke... Nigel enjoys some wonderful cold smoked rainbow trout...and there we all are - Jo & I have acquired hats to match Connie & Allan's - see below!
At the start of June we were delighted to welcome a director of English Lakes Hotels and his friends, including chefs from the Grill and Smokehouse and the Wild Boar Hotel in Windermere... needless to say, we learnt a lot! The weather was glorious and a good day was had by all...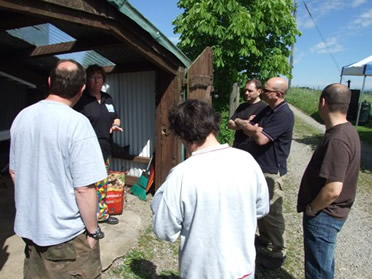 One of our May courses ready to go... ... and Connie & Allan and their hats!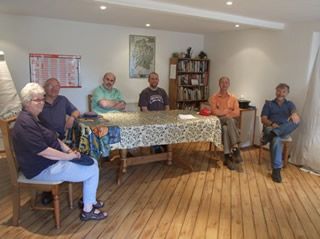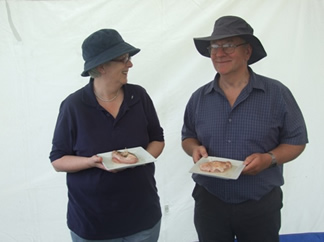 This week our course showed real talent at creating the pefect clump of damp oakdust!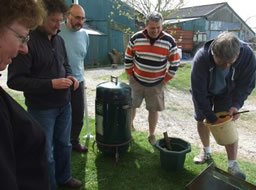 Looking forward... .. to the great smoked chicken! Saying goodbye and admiring Paul's bike!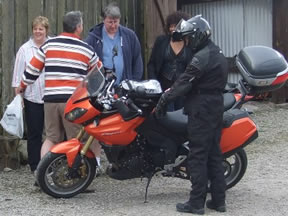 Our first week end course of the year brought fabulous weather to Shap and Newbiggin on Lune, where our intrepid guests fished for their food with varying degrees of success...
Lots of fun making sausages... and creating wonderful hot smoked salmon recipes!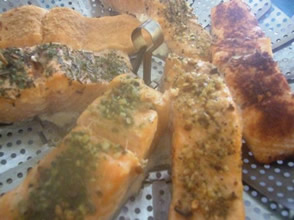 The chickens were hoping for left-overs.......
But that was never going to happen!
This box is at least thirty years old - a "Brookes Original Home Smoker" Piers brought it to test out!
He also brought a small barrel of particularly good beer from The Old Cannon Brewery but that's another story... and has nothing to do with the two jokers who brought their own smoking equipment!
The first things tasted in the afternoon of the first course of 2010... a selection of smoked shellfish... can it get any better...?!
... not better, but every bit as good and a little warmer inside!
If you have been on a Smoky Jo's course - send us your photos for our photo gallery.
Smoky Jo's courses are part of -
Stepping Off and soTraining and Consulting.
Corporate training, specialising in designing and delivering motivational seminars and workshops. Our work is motivating and inspiring, putting your organisation a step ahead.