Smoky Jo's Photo Gallery - 2009
Click here to look at our 2008 Gallery
Here are photos of just some of our Food Smoking Courses run at Smoky Jo's in 2009.
Some of the photos are taken by us but many of the people who come on our courses send us photos they have taken.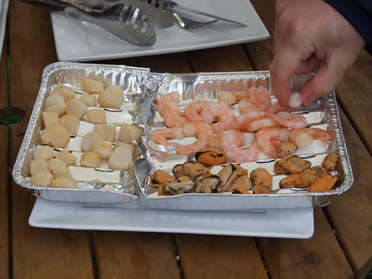 Now you are talking - smoked mussels, prawns and scallops
Yum!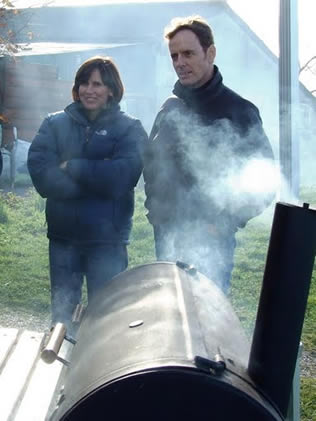 Well we said you might go home smelling of smoke!
Good job this was the last course of the year What are you looking at?
The weather is certainly on the turn - our first
really wet course of 2009!
Dill covered salmon - about to be hot smoked on the Aga
Wow - when do we get to try that! Getting ready to smoke our lunch.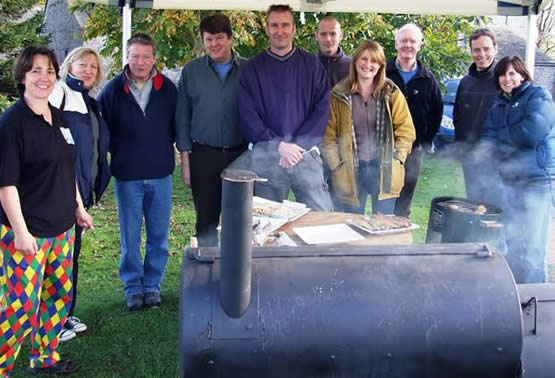 Group photo time!
A lovely October afternoon fishing at Bessy Beck - well you have to catch before you can smoke!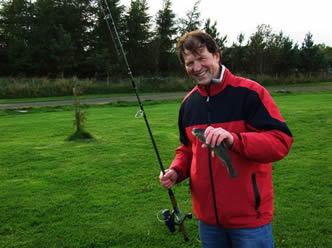 And here we have David and Trisha who have done exactly that - well done you two!
And here they are again - this time making their own recipe sausages - with Penny and Martin.
Looking good! Not bad for a first stab at making your own sausages - and with recipes like pork and Gorgonzola and pork and apple - I bet they taste great too.
Now here we are outside - tasting those same sausages!
And if you think that looks fun - just look at the hot smoked salmon they smoked for their lunch.
Well that all disappeared quickly! - makes you very hungry working with all this lovely food.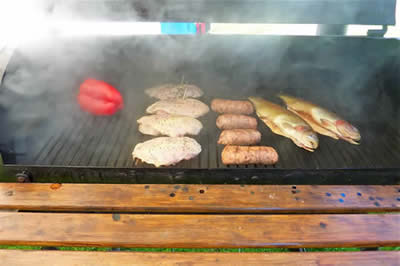 Mouthwatering!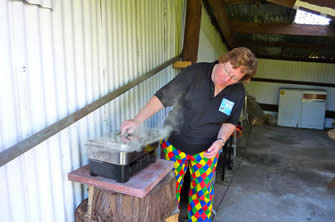 A rare treat - having our tasting outside Have a look at a riverside smoker - lovely
hot smoked trout in 15 minutes!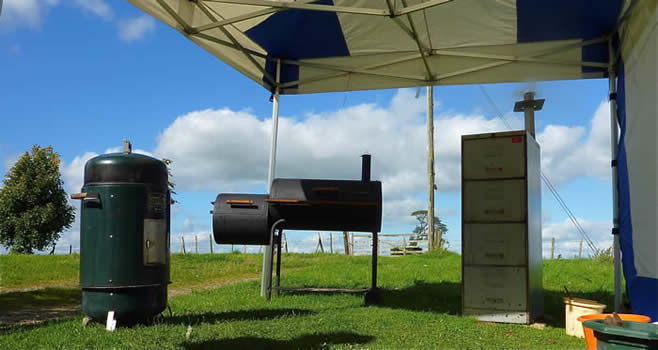 Here we have three of our smokers - a kettle smoker, 'Charlie' our barrel and 'Freddie' our filing cabinet smoker!
We are cold smoking cheese, sausages and garlic in
the top drawer of 'Freddie' the filing cabinet.
How about this for a feast - turkey, mushrooms, sausages and a haggis - all smoked!
Jo explaining cold smoking in 'Charlie' our barrel A lovely September day -dry - great for smoking.
smoker.
Enjoying choosing lovely flavours to brine our food in before we smoke it.
Here we are almost at the end of the season - and the weather is so great - we are having our tasting outside for the first time this year - in lovely warm sunshine.
How about this for a succulent plate of hot smoked chicken - Yum!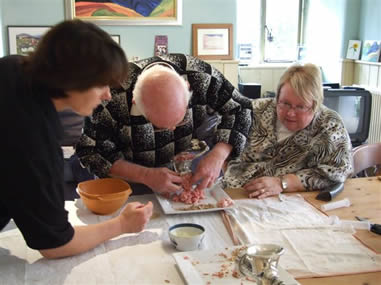 Here we are again with a weekend course making sausages..
catching trout to smoke...
and generally really enjoying our smoking experience!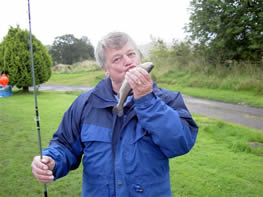 Here is Shirley with the first fish of the day. You can see how pleased Tom was with his fish!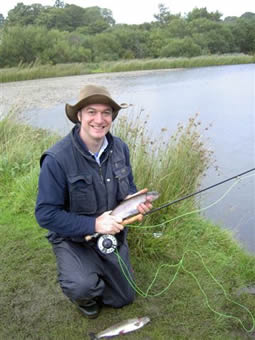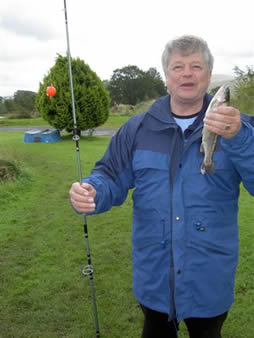 Ben put us all to shame by catching two Tom's delight as he lands another fish.
lovely trout on a dry fly.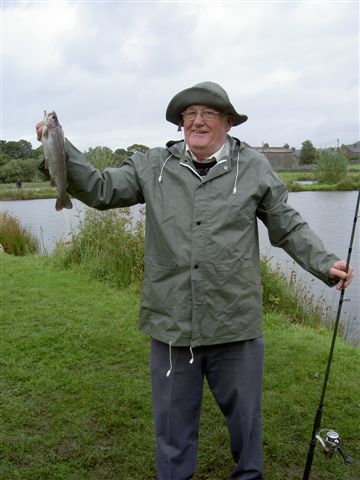 Hooray for David - despite the cold weather (August bank holiday!!)
David has persevered and caught yet another fish.
Ben and Tom looking for herbs and spices to David fishing on the other bank.
make their sausages.
Shirley and Ben braving the weather!
Smoky Jo - celebrating the end of another great day!
We were delighted to have our friend Annette Gibbons - local celebrity cook from Border TV with us today and we would like to say 'Congratulations' to Annette who has this year been awarded the OBE.
Here is Annette in the centre of the picture next to Georgina.
One of the hightlights of the day - having fun tasting a few smoked scallops, nuts and mussels.
Wow! can't you almost taste that food? Don't those sausages look good.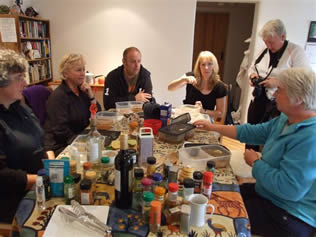 Another enjoyable course - discussing flavours! Just to prove you can smoke anywhere - here we are smoking in the kitchen - on the Aga!
Mike, Beryl and John enjoying a smoked turkey leg. Looks like I am being asked a difficult question!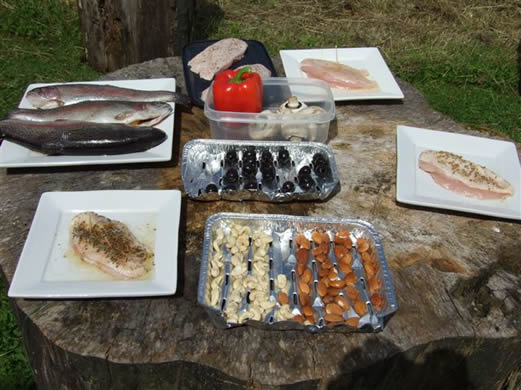 Just a sample of some of the food we were smoking on this course.
Herbs and spices ready for brining Creating smoke - that's what it is all about!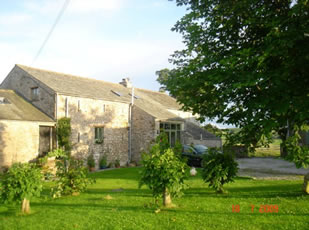 Margaret took this of John enjoying his lunch Castle Court in the cool of the evening
with Tim and Angela and Bruce
Margaret's picture taken from the smoking area of the
paddock with the Pennines in the distance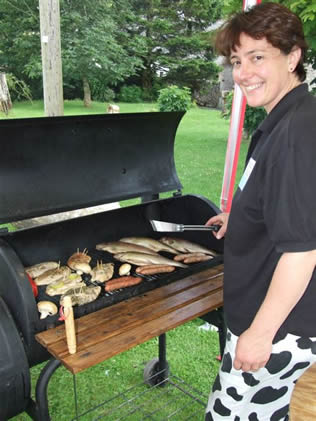 Georgina getting to grips with cold smoking chicken, sausages, mushrooms, peppers, and trout!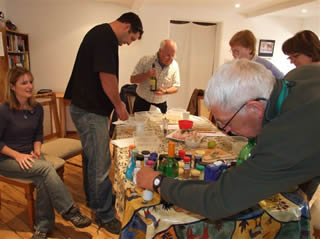 John and Jean inspect the cold smoking Bruce is intent on creating the perfect flavours
Amazing the weather - when 24 hours earlier we were in the grips of a storm with torrential rain and gale force winds!
Ah! The best bit - a glass of fizz and the taste of wonderfully smoked food.
David took these photos - chicken, salmon and olives waiting to be smoked. Almonds Cashews and olives in a drawer of Freddie cold smoking and hot smoked trout half way to being devoured!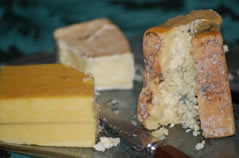 Wow - hot smoked turkey leg, George slicing sausages to taste All that is left of the smoked sausages and mushrooms taste - straight from the smoker cheeses
and garlic. Yum!
"The Salters" at the end of the day.
Each of these guys had an interest not just in smoking but also in 'salting' - they all salt their own hams. Gosh -we talked all day about salting times, meat water volumes, water percentages, dehydration techniques, dehydration percentages - oh yes and a little bit about smoking!
Now who is taking the best photo? The start of the day.
Last weeks group with Colin showing off his fabulous home smoker.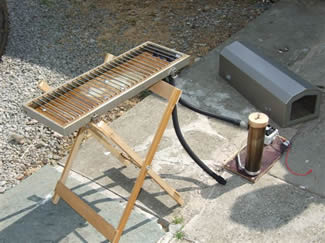 Colin with his ingenious design for a home made smoker. The absolute genius is in its simplicity!
Brilliant Colin!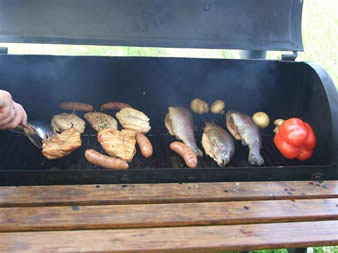 The sun was so hot we had to put one of the sides Watching Georgina hot smoke on Charlie - Lovely!
up to keep us and the smokers cool -
What - hot in Shap?
Ann joined us for a special one-to-one course and made the most wonderful sausages!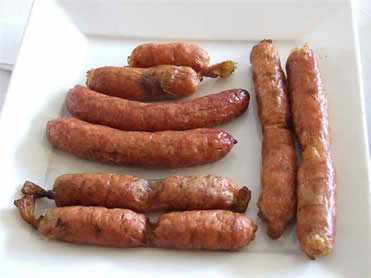 How about these - a wonderful selection.
pork and sage, spicy with coriander
and pork and Gorgonzola.
Well done Ann!
Smoked Scallops - Queenies and Kings Smoked nuts - Almonds and cashews
Paul joined Ann to taste all the food she had smoked -
I think he wished he had joined her for the whole day!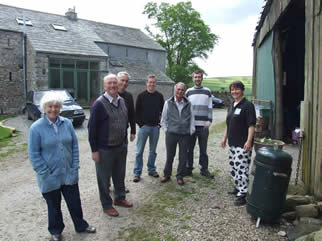 The smokers were out of the wind today. Having fun with spices and herbs for brine.
Enjoying the sun in a sheltered place out of the wind!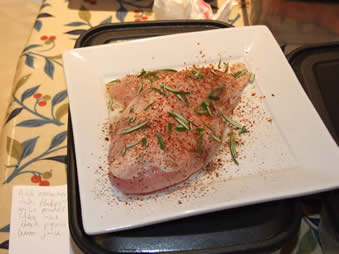 A chicken fillet seasoned and covered in fresh Smoking a variety of food on one of the smokers
rosemary - ready to go in the smoker.
Our youngest ever sausage maker -and she was brilliant.
She made wonderful smoked herb sausages.
Well done Georgia!
Yuk! this is a sticky business! Oh! but it was worth it!
Selecting ingredients- herbs and spices - for our brine.
Smoking our lunch on the Aga......
and here it is being served - along with salad,
home made crusty bread and smoked cheeses - yum!
Better weather for this course - sunshine all day right until we started tasting the food - so back inside again in the warm.
Lovely - Smoked cheese in 'Freddie 2' - brie, cheddar and stilton - yum!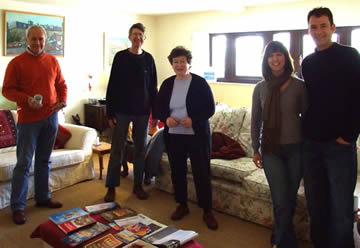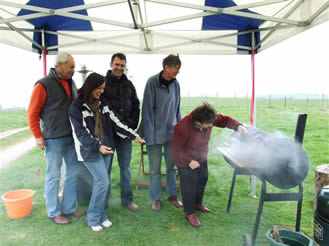 Inside before we start Wow! Mary look at all that smoke!
Kate at the best moment of the day - the first bite! Smoked sausage - straight from the smoker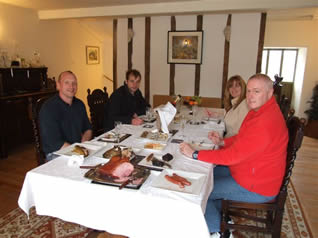 Photos from a very cold and windy day this April - we had to retreat inside to the warm dining hall to taste the lovely food.
Pictures of the group who came on our first course this year.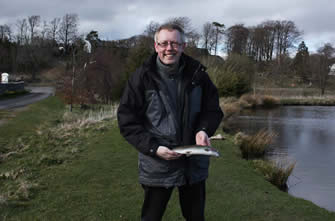 Here's Nick - with the best fish of the day. Wonderful smoked ham - slowly roasting
Nick and carolyn have really got the hang of this!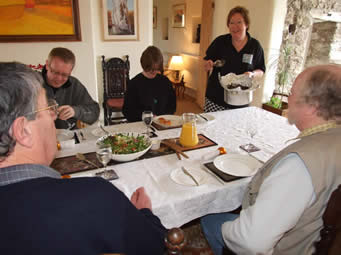 Have you burnt our lunch or is it smoked? Trying our hand at making sausages - Peter is amused!
Not a very dignified image a Jo nets At least we landed this one!
Brian's first fish.
Now for the best part - the tasting!
............................................................................................
If you have been on a Smoky Jo's course - send us your photos for our photo gallery.
Smoky Jo's courses are part of -
Stepping Off and soTraining and Consulting.
Corporate training, specialising in designing and delivering motivational seminars and workshops. Our work is motivating and inspiring, putting your organisation a step ahead.