Smoky Jo's Photo Gallery - 2008
What fun we had in 2008! We ran over 20 courses, met some really terrific people and ate loads of yummy smoked food - so thank you to everyone who came on a course. Here are a few photos from some of those courses - I hope they bring back some great memories.
Have a look at some of the great home smokers that people have designed and built after their time at Smoky jo's
Did you see Smoky Jo's on BBC The One Show
The One Show did a feature on Smoky Jo's on January 13th 2009.
A short film presented by Carol Thatcher featuring Smoky Jo's
Wow! Smoked pheasant, hot smoked garlic and smoked home-made sausages. Lucky we have people who learn so quickly!
VERY proud of the sausages they made to smoke... and catching a trout at Bessy Beck
Lots of activity choosing ingredients for the brining process... and what a catch! Will they all fit in the smoker?
Here is a picture sent by John Kania who came on a weekend course in October -to introduce us to 'Freeda'! Look out Freddie it looks as though you have some attractive competition!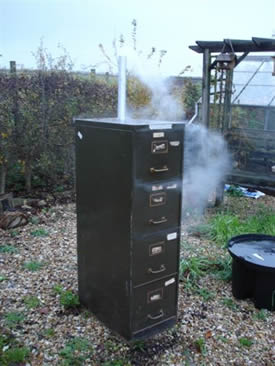 Well done John!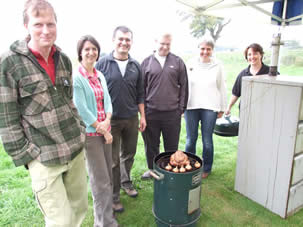 Arnie, Becky, Chris, Tim and Lynne posing with
a smoked chicken and garlic. - Oh yes and George!
Tasting our efforts in the lovely sunshine Simon just couldn't resist quick look at how
- yes we had sun in August! things were smoking!
Lynne - savoring the smell of a freshly hot smoked garlic!
Wow! What a catch - after an afternoon Great picture! Anna and Simon with the
at Bessy Becks Trout fishery we have 4 fish duck breast they were about to smoke
to smoke.
A quiet evening at Smoky Jo's when everyone has gone
home after a great day smoking!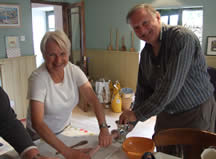 Trying your hand at making Anna and Simon had clearly done How long? Dot and Ellie may sausages this before and were expert! need a little more practice!
Your hosts - Jo and Georgina raising a glass at the end of
another great day at Smoky Jo's
Checking on Charlie Finally some good weather! Smoked garlic or Cava first?!
Mark Hudspeth couldn't resist taking a
photo of the food he had smoked and was about to try!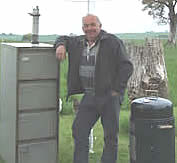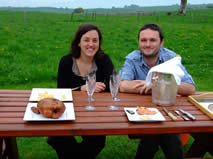 A perfect end to the day... and a cool pose with Freddie! Waiting to taste!
Toasting the smokers!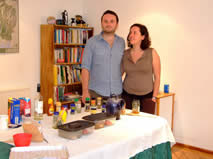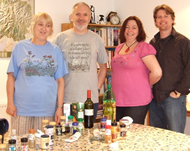 Creating your own brining More happy smokers - one
recipes. almost a celebrity foodie!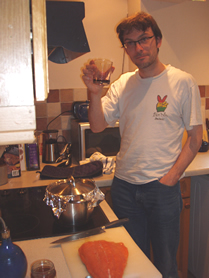 Karl enjoying his first attempt at smoking A sample of the food smoked on a
in his kitchen with a glass of wine one day course
Philip who is planning to put his new skills to use in Tasting our smoked food
Nepal for the charity he runs over dinner st Smoky Jo's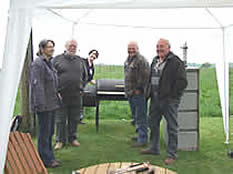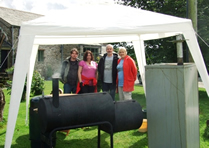 Peep-bo ! Smoke and sun...
Now for the theory. ...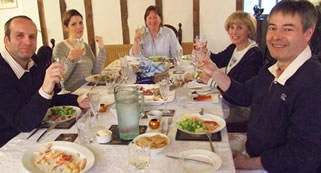 Now for the food!
Making up your own recipe sausages to smoke Today's food ready to smoke
Never made sausages before?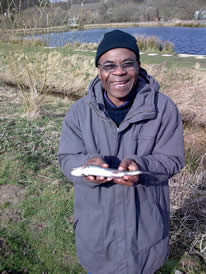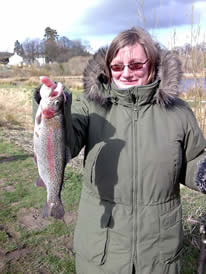 Great fish...Anne with the catch of the day - better luck next time Tope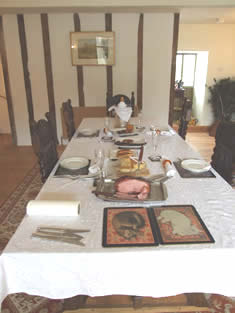 Getting the table ready for the tastings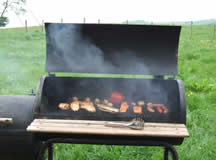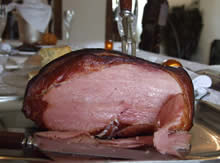 Charlie smoking away! Succulent home smoked ham
Troy - our peacock joining in the smoking course - be careful Troy - behind you!
About to start tasting - indoors this time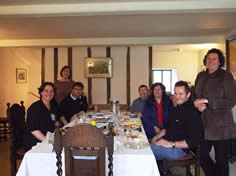 Sitting down to taste the days effort
Smoking on a chilly day at Smoky Jo's!
If you have been on a Smoky Jo's course - send us your photos for our photo gallery.
Smoky Jo's courses are part of -
Stepping Off and soTraining and Consulting.
Corporate training, specialising in designing and delivering motivational seminars and workshops. Our work is motivating and inspiring, putting your organisation a step ahead.