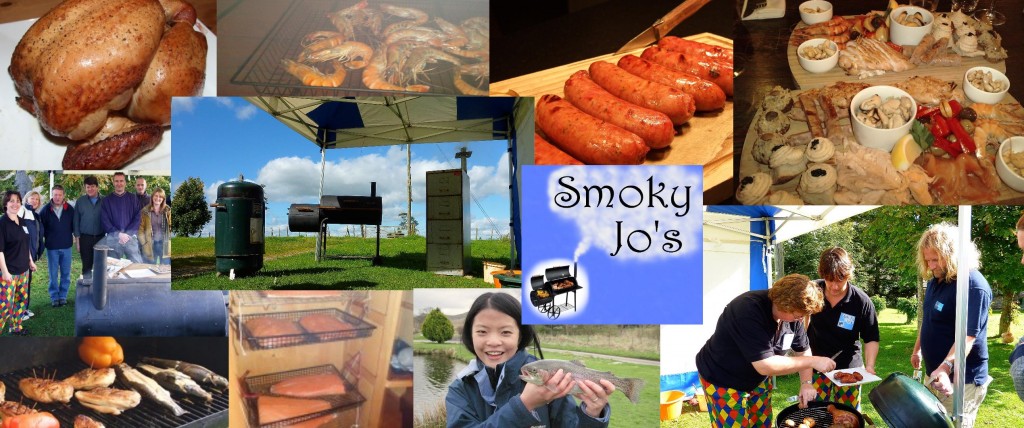 Smoky Georgina has been busy making a new banner for Smoky Jo's Facebook page.  A couple of people have enquired as to what all the photos are.  So here is a description – going clockwise from the top left…..
A hot smoked whole chicken
Cooked prawns – cold smoking in the shell
Hot smoked wild boar and apple sausages
A plate of canapes and starters served up by our friend Marc – the head chef  – for our guests on a food smoking course at the Wild Boar.  These include – smoked mussels, smoked trout pate, smoked nuts, smoked olive and black pudding tapenade, sliced smoked salmon and smoked chicken, smoked sausages, smoked red peppers and more…..
Smoky Jo and Smoky Georgina smoking food on a water smoker with a Smoky Jo's guest looking on
Lovely guest Claire catching her first trout to smoke
Half sides of salmon cold smoking in 'Waldo' – the wardrobe smoker
In the corner is a lovely pic of smoking chicken, sausages, peppers, and trout being smoked on our barrel smoker which has sadly been obliterated by a pic of Smoky Jo and Smoky Georgina with Freddie the filing cabinet smoker!!
A happy group of guests with Smoky Georgina enjoying a food smoking course at Smoky Jo's
In the middle on the left is a view of three of the seven smokers that we use on the smoking courses
Lastly – in the middle on the right is our logo
If anyone has any other pics that they have taken on our courses that they would like to have included as part of the banner – please send them through and perhaps Smoky Georgina will put a new one together periodically.
Happy Smoking!