We had a great day out at the Northumberland County Show. The weather was really kind to us – with sunshine most of the day and only a few drops of rain when a dark cloud passed over us.
Smoky Jo did a cookery demo which was fun. Hot smoking salmon, trout and aubergine on a stove top smoker and then making a smoked aubergine dip and a smoked trout pate for everyone to try.
 She also took the cold smoke generator and the cardboard Eco smoker and cold smoked nuts, olives and cheese.  The tasters were a great success and were enjoyed by an audience of about 50 people.
Having had a 05.30 start to get to the show we were pretty weary when we got home – but not to be deterred from joining in the Jubilee celebrations, we set of to climb up to the top of Orton Scar to watch the lighting of our beacon. It was amazing – there was the most stunning sunset over Blencathra to the west. Loads of people were there, musicians, singing, a huge fire, 60 rockets to celebrate the Queens 60 years and then fireworks – Wonderful!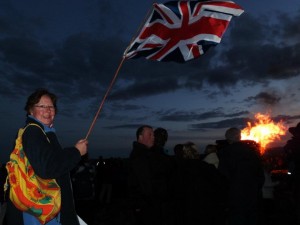 It was all made more memorable by the fact that we could see 9 other beacons from our view point – scattered around the Lakeland fells and Peninnes – and then the moon came out. A beautiful full moon rose in the east and was magnificant againt the dark blue sky. It rose higher and higher – a golden orb in the sky above us as we sat watching the dying embers of the fire. Magical!
Congratulations your Majesty!